"PICK AND PACK" Direct
STOCKO CONTACT commences operations at a new logistics centre and state-of-the-art high bay warehouse.
Due to increasing customer demand, STOCKO CONTACT is expanding its logistics network with an area of 2,700 m² and is again investing in the Hellenthal location. This optimises the flow of goods from completion to dispatch meaning that it all takes place directly on site as a one-stop operation. In addition, a new fully automated finished goods warehouse has gone into operation.
Maximum space utilisation on a small footprint combined with speed, flexibility and energy efficiency: these are the key features of a modern compact warehouse. The new high bay warehouse covers a length of 60 metres and a height of 11 metres.
The previous capacity of the conventional finished parts warehouse will be almost doubled by the expansion.
The warehouse complex is divided functionally into the areas of high bay warehouse, outgoing and incoming goods with conveyor connection to the production and storage hall. The new high bay warehouse has 2 aisles and a capacity of 4,320 trays, which can also be loaded with 2 layers of cardboard boxes.
The new pallet rack with 617 pallet spaces accommodates the finished goods packed in bulk containers and the necessary packaging materials. EURO pallets, small pallets as well as customer-specific pallets are stored and transported. The warehouse serves as a buffer and distribution warehouse. Material movements are carried out semi-automatically via a tablet-supported information system using a new reach truck.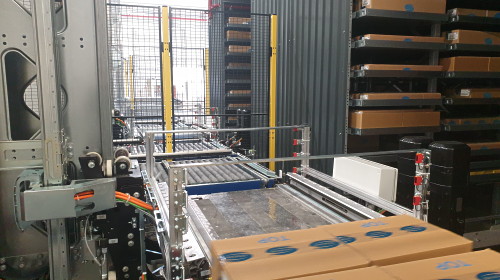 Modern loading ramps
The outgoing goods area has 3 loading ramps. The provision of the goods is fully automatic on a total of 3 picking workstations with drive roller technology. The outgoing goods area is connected by means of conveyor technology. Loading with filled trays and return storage of empty trays is carried out via a separate lifting station and with our own conveyor technology from and to production. Up to 100 trays per hour can be picked.
Pallet transport from production to logistics is handled by a goods lift.
Two automatic feeding stations have been installed in the assembly area, which ensure the removal of the finished goods by a 4-table unit.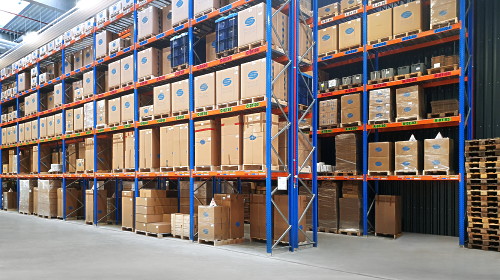 High bay warehouse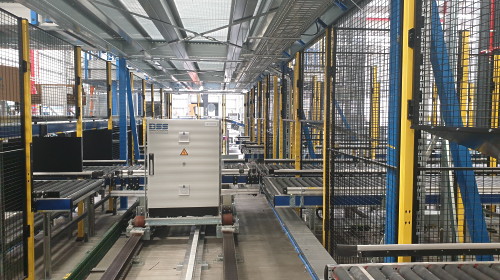 New conveyor technology with up-to-date conveyor tracks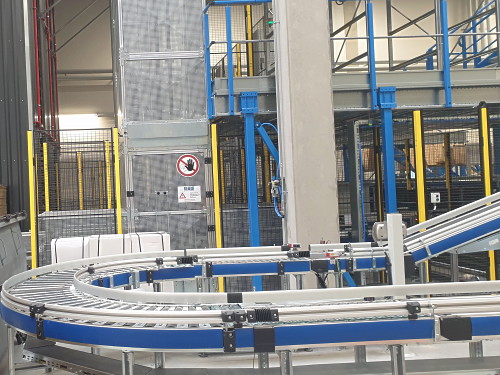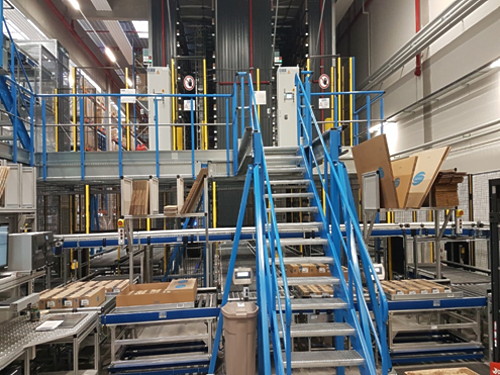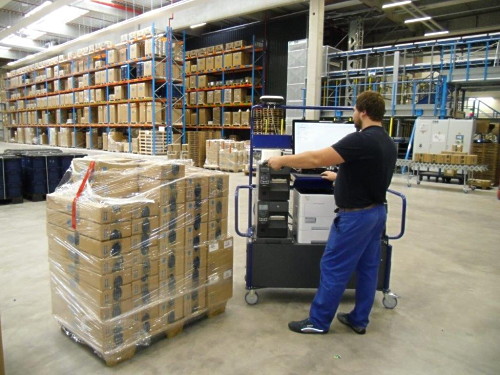 Up-to date logistics using intelligent software and storage location overview
"We are looking forward to further expanding our network with the new logistics centre in Hellenthal and thus to meeting customer needs quickly and efficiently," says Mr. Ingo Klinkhammer, Head of Materials Management at STOCKO CONTACT. "We offer a good infrastructure and thus remain enormously competitive." The new Stocko logistics centre continues the positive, dynamic development. The extensions at the Hellenthal site thus amount to a total of 6,900 m² and are another positive sign of STOCKO's solid economic growth over the next few years.