STOCKO shows zero tolerance
If you think that this is a negative characteristic here, you are wrong. Take a closer look and you will see that STOCKO's zero tolerance attitude is an essential condition for precise work. In this regard, the words zero tolerance can be taken quite literally. STOCKO recently acquired a state-of-the-art scanning electron microscope.
Small components, such as plug connectors and contacts, as manufactured by STOCKO do not tolerate any fluctuations in quality. Even the most minute manufacturing tolerances can subsequently result in the failure of entire assemblies. Because the requirements imposed on quality, service life, and the precision of STOCKO products are increasing over the entire cycle, continuous adaptation of our laboratory equipment is necessary to assure our high standards.
Consequently, as another step in expanding the development of our analysis methods STOCKO has placed a ZEISS EVO MA10 scanning electron microscope (SEM) with EDX system in service.
SEMs enable microscopic examination with magnification that is approximately 100x greater than that achieved with light-optical microscopes. Now 3-dimensional presentations of the most delicate surface structures possible, and it is also possible to measure and display elements that are embedded in the surfaces.
At STOCKO the SEM is typically used for the following applications:
Microscopic examinations of contacts and plugs as part of development and quality tests, e.g. for analysis of the abrasive behavior of contact pairings or of the whiskers shown above after endurance tests
Metallurgical examination of the material composition of contact material and finishing layers
Search and identification of contaminants or impurities
Microscopic examination, e.g. of fracture surfaces for error analysis
With the SEM, new analysis possibilities are now available to STOCKO that contribute in improving the quality of STOCKO products, starting with product development and product qualification, in production monitoring and quality control, and extending to troubleshooting.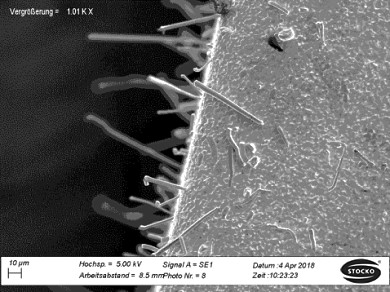 Microscopic images show hair crystals, so-called whiskers, on a tin surface.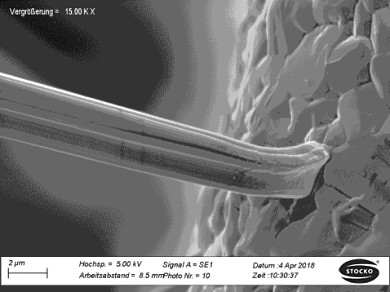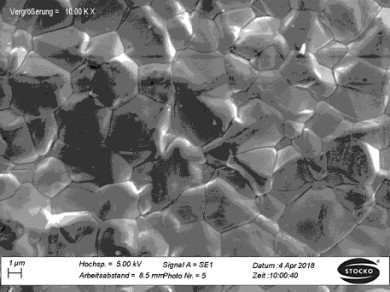 Resolution of the grain structure of a high-gloss tin surface.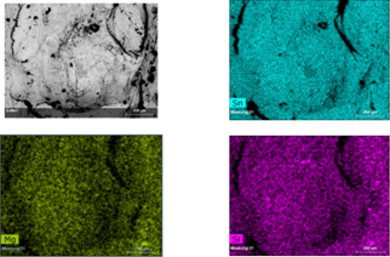 Presentation of the element distribution in a contact surface through coloring.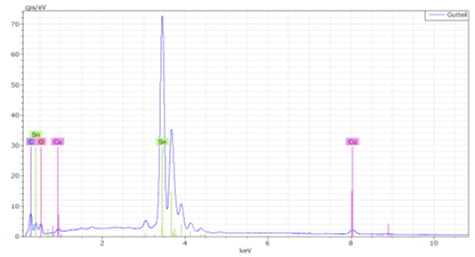 Analysis of the elements in a surface according to frequency.