STOCKO lead frame for automotive applications
With its lead frame modules, STOCKO offers its customers customised products developed jointly with them that are optimally adapted to the respective application and the production process.
Connecting and connection technology in the automotive industry is increasingly tailored more specifically to the respective application. Both the complex installation space in the car and the application-specific loads of an electrical, mechanical or chemical nature require individual solutions. In addition, for the connection systems too, solutions are being sought that enable automated installation and integration of these components into complex assemblies.
For this reason, in cooperation with its customers, STOCKO is developing termination solutions that are directly adapted to the respective applications. In many cases, lead frames in place of wiring provide the appropriate concept, for example for terminations in AdBlue pumps, in sensor technology applications or even in lighting systems.
Lead frame modules as produced by STOCKO are complex components that go through multi-stage processes:
Punching out the frame geometry
Finishing
Punching-bending process with 3D forming of the metal pieces
Fixing the lead frame components by overmoulding with suitable plastics
Detaching connecting webs
Attaching STOCKO's own connectors
Fully automated functional testing
The multi-stage STOCKO-specific production process offers clear advantages compared with other solutions. Thus for example, they can be adapted by the 3-dimentional contour shaping of the frames particularly precisely to the respective installation position. In addition, they enable the integration of separate functional areas so multi-functional applications are also possible. From holes to the precise positioning of the frames in the application right to connection contacts for lamps etc., functions can be integrated by appropriate forming. In its lead frames, STOCKO currently offers dimensions of 120x250mm².
Furthermore STOCKO lead frame modules make contact with the circuit boards via adapted IDC direct connectors from the STOCKO programme. These connectors are plugged in directly on the edge of the circuit board, a specific mating connector is not necessary. This saves installation space and money.
Also the selection of suitable materials is significant for the adaptation of the modules to the respective application. To withstand the different thermal, mechanical and chemical loads in operation, at STOCKO metals, surface finishing and plastics are carefully selected and tested.
In conjunction with the specially adapted STOCKO IDC connector technology and the precision processing, with these lead frames, all things considered, this results in highly individual solutions that STOCKO adapts jointly with the customer exactly to the respective requirements in the automotive area.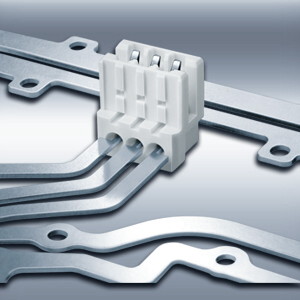 Attached circuit board direct connector in 2.5mm pitch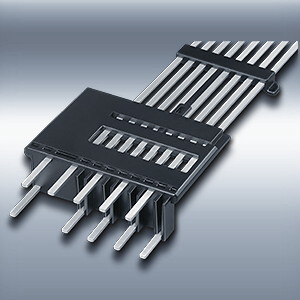 Lead frame after 3D forming and fixing of the frame elements by overmoulding with plastic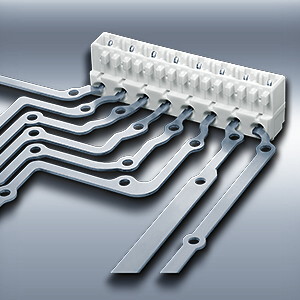 Circuit board direct connector in 5mm pitch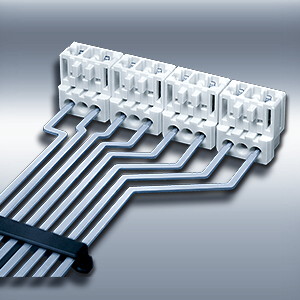 Lead frame with 2.5mm frame connectors, attached in 5mm pitch