我们的实验室对所有即将批量生产的部品进行全方位的适应性测试。我们的实验室及设备水准之高,以致于VDE检测认证机构把自己的独立测试也放在此实验室完成。这包括VDE甚至CSA和UL针对国际市场的严格测试。
创新连接未来
斯道克的产品广为赞誉,备受青睐。他们展现了严谨的设计和制造方案,广泛应用于多种领域,例如连接器和端子产品。
可是,在此方面,越来越多的功能和日趋复杂的要求,限制了大批量生产的标准元件的使用。越来越多的客户需要个性化的应用或新颖的设计。这需要专业的知识、创新思维以及对工艺和经济理念适当地调整。
我们正与客户一起,集中力量于新产品的预期性能,逐步地解决每一个细节:材质、表面镀层、物理特性和最终的设计方案。在研发方面,我们拥有最先进的计算机辅助系统。
利用三维光固化快速成型技术,例如:借助于原型,我们可以预先检查将要生产的产品的精密度,或制造用于测试目的的原型样品。所有斯道克的产品在投放市场之前,都须在我们的实验室内,对其机械和电气特性、以及可能对环境造成的影响方面,进行苛刻的检测。

高度灵活的自动化
对我们的连接器技术来说,起决定作用的因素,就是斯道克自身独立设计制作工模具的能力。
生产用模具包括负形塑壳模的制造,是保证质量的重中之重,我们的电工元件研发小组严格坚持此类模件构造设计的准则。
斯道克依据最前沿的技术制造冲模和熔模,他们将融于生产价值链,最终使客户从中受益。
注塑
斯道克采取集约化生产方式,确保产品的顶级品质。因此,所有的塑料部件是在Hellenthal工厂生产的。
通过集中生产,有利于达到如下技术要求:最小的针距容纳最多的针数、尽可能小的公差范围、特殊的高阻燃塑胶原料的加工、各种各样原材料的应用以及高产量。要达到这些,需要借助于先进的设备,以及斯道克自行生产的全自动生产线、智能化辅助仪器和工模具。
在新的塑料材料的研发和生产工艺方面,我们力求最优方案,从而实现了过硬的产品质量。
冲压
我们不同产品系列的精密冲压过程是在位于德国Hellenthal的制造中心和法国Andlau的生产基地完成的,该生产基地也配备了高精密、高性能的数控生产设备和高精密的检测设备。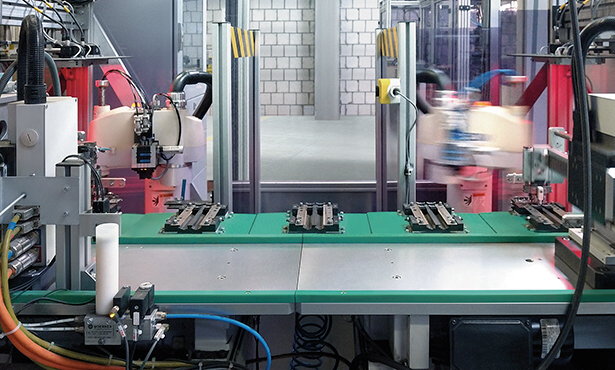 组装
我们的连接器系统是由位于比利时Hellenthal和捷克Sokolov的两个斯道克工厂组装完成的,这里同样配备了斯道克自行研制和制造的全自动的生产线、工模具和辅助设备,贯彻了斯道克的企业理念,从而实现了斯道克高柔性的自动化生产,也体现了我们为保证高质量标准而自行开发的控制体系的可行性。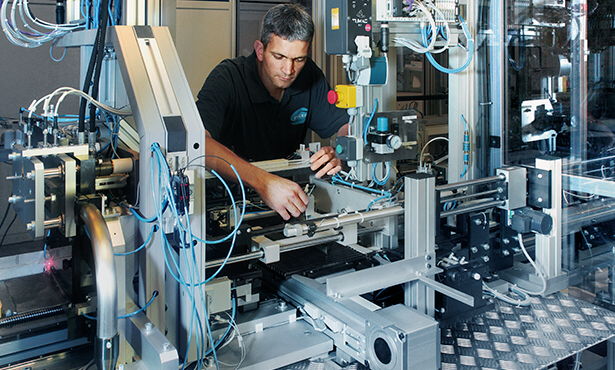 始终如一的高效生产
电子连接的质量和可靠性很大程度上取决于高水准的压接工艺,这就是为什么我们注重端接系统的研发和制造,并为此投入了相当可观的资金的原因。除质量因素外,创新和经济性也是重要的组成部分。
通过将我们的压接设备与客户的生产线完美的整合到一起,我们致力于提高客户的生产力,从而让斯道克的解决方案再次以催化剂的角色增强您的竞争优势。为确保运行顺利,我们将为您的员工提供培训服务。此外,为确保您的生产效率,我们资深的服务工程师团队将随时随地为您提供建议和帮助。
斯道克压接技术 - 可广泛应用各种设备:
从简单的手钳,到半自动设备,及至拥有"即时编绎"功能、数控、全自动质量控制功能、可通过调制解调器连接外部诊断装置、以及线束形状次序设置功能的全自动设备。

质量是我们的生命线
这也是对"顾客至上"最好的注释,是激烈的市场竞争中的基石。对斯道克来说,质量控制不仅仅始于生产过程,从最初的接触开始,我们的客户就深知,斯道克将提供可靠的支持,是可信赖的伙伴。质量控制同时存在于计划和开发阶段:以应用为导向的设计、对最优材料的苛刻甄选、以及恪守客户要求的态度。国际标准仅作为我们的指导方针,我们通过增设企业标准,在此基础上更上一层楼,这包括:自行设计的测试程序、内部实验室、持续追求全过程最佳的作业控制、以及与客户和用户间经验和技术的紧密互动。此外,我们的质量控制已延伸至环境保护方面,我们的环境责任已深深地植根于生产过程之中。在产品的开发阶段我们就谨慎地使用原材料。我们所有的塑料和金属材料都可重复利用,我们的先进的生产工艺也已完全摈弃了氯化的碳氢化合物和碳氟化合物。而且,为了避免浪费,斯道克正在使用可重复利用的包装系统,如水泡包装、卷轴和管状包装。
我们以环境保护为己任,并贯彻到生产过程中。有鉴于此,我们充分考虑到环境和生态的可持续发展,始终保持法国Andlau生产基地电镀车间的先进性。经过一道复杂的处理工序,所有的废弃物重现洁净,完全无污染。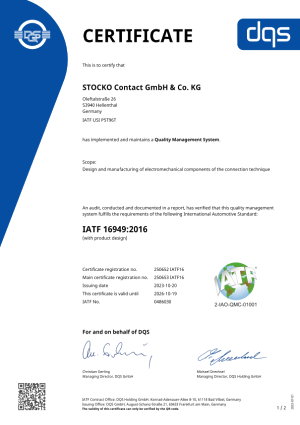 DIN EN ISO 9001和 IATF 16949质量体系认证
通过已获得的DIN ISO 9001认证,我们为确保生产活动的每个部分都达到统一的高标准、而建立的一套质量管理体系得到了认可。同样地,这也是IATF 16949认证的基础。自2006年以来,我们就在法国工厂建立了ISO/TS16949质量管理体系。这也是汽车工业供应商的入门条件,这同时表明公司已将一整套特殊的程序贯彻到所有的生产活动细节中,符合客户对汽车部品的特有要求。因此,从长远来看,斯道克将提高自身和您的效率和安全性。
DIN EN ISO 14001
近年来,我们信守承诺,采取诸多的改进措施,以改善我公司的环境政策,并不断深化。自2011年起,我们的法国工厂已经达到环境管理体系ISO 14001的严格要求。通过这样做,我们比以往更致力于减少废物,废水和废气排放等威胁环境的因素,并持之以恒地的规划,执行和监测我们的目标和达成情况。对我们来说,这是我们价值体系中的重要一环。

德国国家标准 ISO 50001
稳固提高我们工作中能源效率的同时降低能源成本、能源消耗并减少二氧化碳排放量,已成为我们企业的长期目标。 考虑到长期的管理与优化,STOCKO已研发出一套智能能源管理系统,因此,我们可以准确追踪任何能源损失并及早出台对策。对此的ISO 50001认证是ISO 14001的更新版。其中能源只是一个方面,ISO50001的重点主要是针对企业的能源性能。通过采用我们的能源管理系统,从理想状态角度来说我们早已远远高于ISO的严格要求,因为我们可以在不增加能源的前提下提高我们的效率。

一切为您
"贴心服务"的理念始终在斯道克的经营理念中占据主导地位,是斯道克经营理念不可或缺的组成部分。当然,与客户探讨他们的特殊要求,尽可能地达到他们的期望值,同样是我们灵活快捷服务的一部分。我们希望为客户提供高性能的产品,并以前瞻性的设计,为客户的经营活动提供支持。您可以信赖斯道克,并最终成为您真正的伙伴,我们将以多年来积累的丰富的市场经验和技术,为我们的伙伴提供帮助。我们的销售工程师和服务工程师更是秉承着这一理念为您提供建议和帮助。无论身在何处,我们位于全球各地的子公司、办事处和代理商网络让我们更贴近客户。这个网络在未来的几年里会进一步拓展,这样我们就可以提供给客户更高效的现场服务。如果某个客户问我们是否是一个好的伙伴,那一定是因为我们做错了什么。
The STOCKO success story
FROM THE BEGINNINGS
STOCKO is a company with a tradition going back for more than one hundred years. The foundation stone was laid by Alfred Aders, Heinrich Pfeiffer, and Johann August Stock 1901 at Wuppertal under the name of Stock & Co. - as button manufacturers. Amongst other items, they produced hollow rivets, eyelets, and press fasteners that, during the Wilhelmian boom era, were in great demand andwere even shipped to South America. When Stock & Co. developed the eyelet tag from a shoe eyelet with a solder tag added, the future direction of the company's activities was set: electrical technologies. Very soon there followed additional pressed, drawn, and seamed metal parts all of which could be manufactured with the same machines as the button parts up until now.
STOCKO has met the great ruptures and frequent changes of the industry in masterly fashion. Today the company is well prepared to continue with the 100 year old tradition also in the future.
TO THE PRESENT
During the Weimar period that is during the twenties of the last century, the living habits of the people changed dramatically; modern electrical devices such as the radio, telephone, or even the electric shaver found entry into the households in large scale. The new direction of the company proved to be a particularly lucky move, 500 people were employed 1935; two years later there were already 1000. Now under the sole company name STOCKO. With the new factory at Malmedy in Belgium 1940, the company grew to a concern employing 1800 people. However, the war was not without consequences, and the numbersank down to 300. There followed the years of the so-called "economic miracle", and STOCKO, too, gained by the new boom. Subsidiaries were founded like in England, France, Switzerland, and overseas. With the expertise, which STOCKO had gained in the manufacture of plastic parts, the product range was extended by film spools, tape cassettes, slide frames etc.. During these years, the expansions abroad continued steadily until far-reaching re-structuring measures took place during the nineties. In 1994, STOCKO divorced themselves from the division Fasteners. In 1998 a merger with the Bamberg Wieland Group took place and since then the company's name is STOCKO Contact GmbH. & Co. KG. Today STOCKO employ about 600 people at three locations: Sales and Marketing are at Wuppertal, production is distributed among the plants at Hellenthal (Germany) and Andlau /France.